This post is sponsored by the Virginia Tourism Corporation, whom we teamed up with to explore some of the best vineyards Virginia has to offer. All opinions are our own.
Autumn is unequivocally our favorite season. Is there a better feeling than crisp air, crunchy leaves and cozy sweaters? While some people love to pick apples or frolic through corn fields, our favorite fall pastime is visiting vineyards. Over the past few years, trips like Sonoma, Bordeaux, Reims and Stellenbosch have taught us so much about the harvest. It's amazing how a year's worth of blood, sweat and tears culminates in a bottle of wine, enjoyed by so many. To be able to see it firsthand is truly something special.
What's even more special is that the vineyards are actually much closer to home than you might think. In fact, we were surprised to learn that the state of Virginia is home to almost 300 vineyards. And with a such a short flight (1.5 hours from Boston, direct to Richmond), we couldn't resist squeezing in a VA wine tour weekend during Virginia Wine Month.
Curious about the ideal itinerary for a perfect visit? We've got you covered!
Day 1 Richmond
After the world's easiest flight, we picked up our sweet rental car and were on our way to our first adventure. Just 20 minutes from the airport, Upper Shirley Vineyards felt a world away from the bustling city. Situated between a windy dirt road and the James River, this sprawling estate is a tranquil escape. If you're feeling adventurous, you can also rent a bike and take the Virginia Capital Trail there and back! Be sure to map your ride first and pack water accordingly.
We had lunch on the covered patio, overlooking the river. For our first course, we shared some yummy southern dips, aptly called the "Southern Trio". Did someone say pimento cheese? For our mains, Tim had one of the best burgers, topped with brisket and paired with the 2014 Tannat. Meanwhile, I enjoyed some shrimp and grits (sorry Tim), paired with the crisp, 2016 Viognier. Fun fact: Viognier is the official grape of Virginia and boy is it good!
After lunch, we strolled the property before making our way over to the Shirley Plantation. Founded in 1613, Shirley was the state's first planation and is still used as a working plantation and residence. It also provides an interesting and important look at our country's history (for better or worse).
From there, we drove back to Richmond to check into the freshly built Graduate Richmond. Designed to reinvigorate the best of college memories, the Graduate Hotels are perfectly curated. Think plaids, leathers and the beds so comfy you'll forget about your University-issued mattresses. Plus, the Richmond outpost has a rooftop pool with 360 views of the city. Need we say more?
Later that evening, we made our way to Heritage for hands down one of the best meals we've ever had. We were lucky to start our night by meeting Chef Joe Sparatta, co-owner. Not only is Joe a fellow Yankee, but he also owns and operates Heritage with his wife, Emilia (we love husband & wife teams, of course). To hear Joe talk about his love for the community and making great food accessible was really inspiring. Such a nice guy!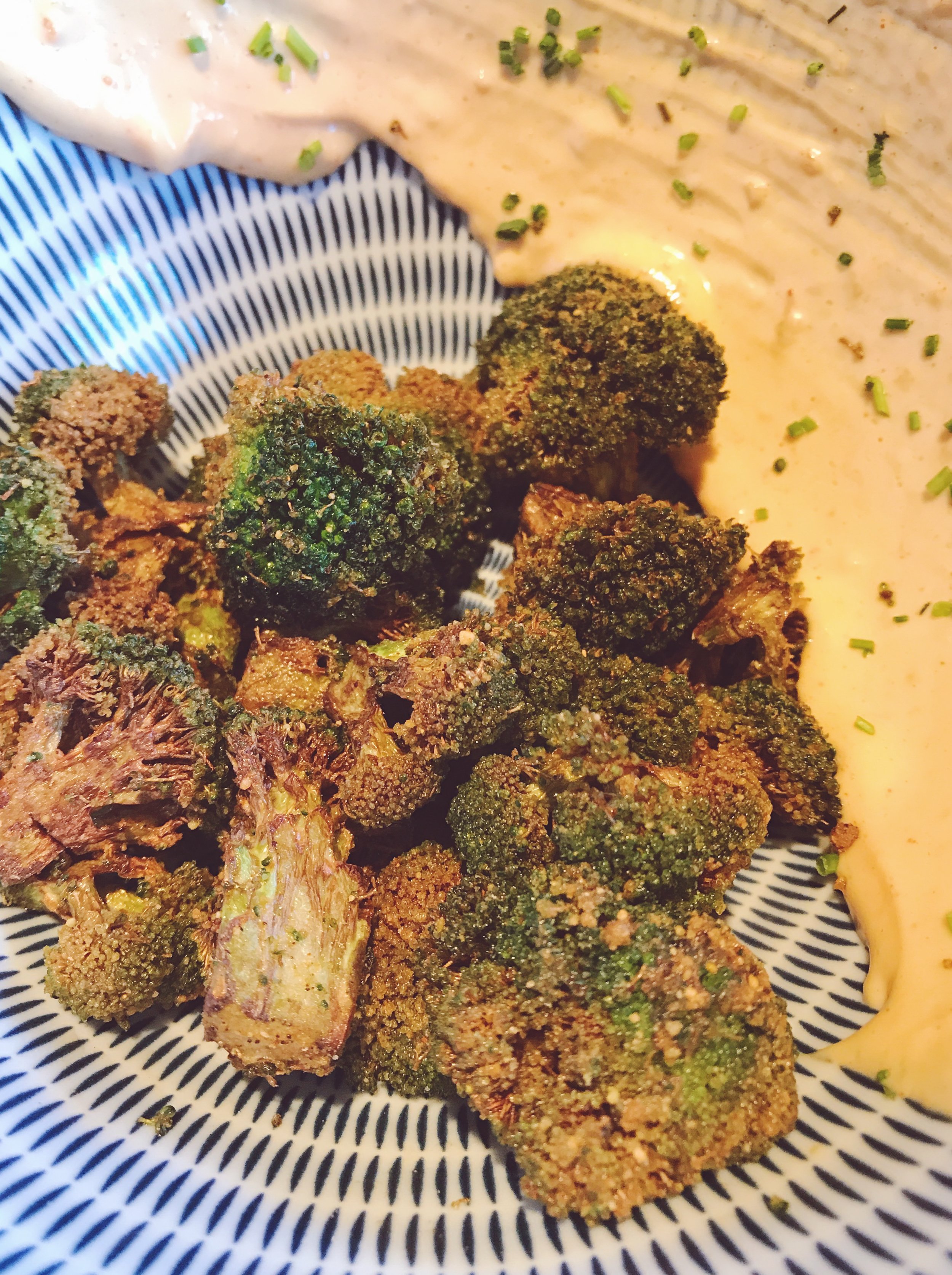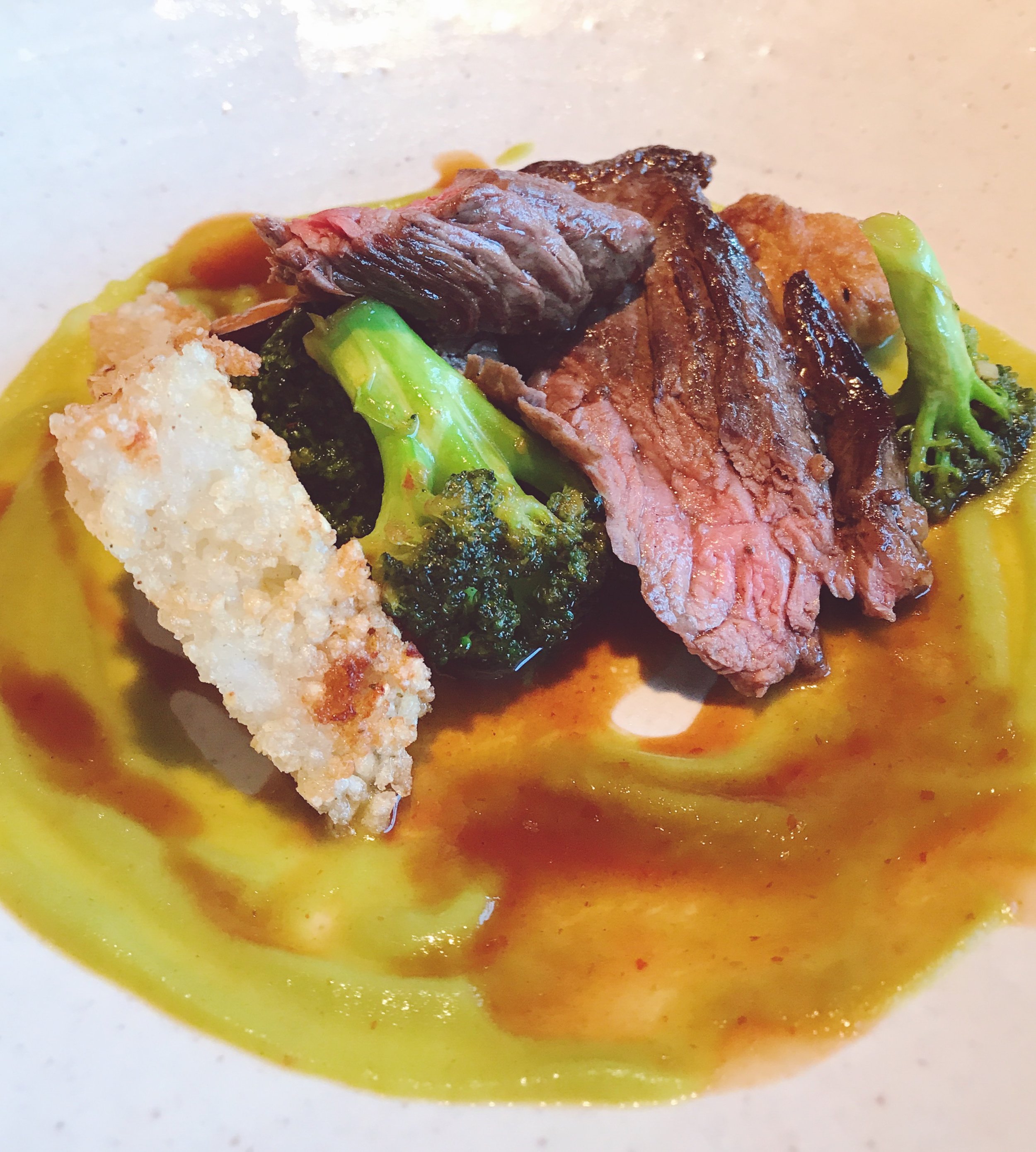 Now, onto the food. Trust us when we say Heritage is not a place you want to miss on your trip to VA. We tried almost everything on the menu and there was not one thing that didn't nail it. Our favorites included fried broccoli with yuzu and Japanese mayo, pimento croquettes, house cured Szechuan coppa, heirloom tomato salad with goat feta AND burrata, house made pasta with seasonal veggies (and more buratta), and an innovative Thai spin on hangar steak with peanut miso and sticky rice. We ended on a sweet note with a unique take on a chocolate candy bar, as well as the sweet corn panna cotta. Although we had to be wheeled out of Heritage, it was so worth it.
You would think that after such a feast, we'd head straight home. Instead, we decided on drinks at Blue Bee Cider, because you can never have too much of a good thing. Upon arrival, we were welcomed by ruff-ly 25 dogs, accompanied by their owners. Apparently, the cidery periodically puts on dog-friendly events to benefit the local ASPCA chapter. We happened to come on portrait night! We tried a few different ciders, but the Firecracker was a fan favorite!
On our way home, we stopped by the historic Jefferson Hotel to take in the opulent lobby. Apparently, the setting for Gone with the Wind was loosely based on it! After that, it was straight to bed for us!
Day 2 Charlottesville
The next day, we enjoyed a relaxing breakfast at the Graduate. There's Brookfield, a restaraunt inside the hotel, serving up delicious coffee and pastries in the cutest space. Once we had a chance to catch up on the weekend edition, we hit the open road to Charlottesville.
To kill some time before meeting our driver for the day, we walked around the market, chatting up local farmers. From there, our driver took us through pristine country roads to Blenheim Vineyards.
Founded by Dave Matthews, Blenheim strives to make as little environmental impact as possible. In fact, the vineyard is powered by solar panels. We did a full tasting, including a few wines not on the tasting menu. Blenheim offers two house wines, the Claim House Red and the Claim House White, both available via refillable growlers – how cool! Our host, Deb, was super knowledgeable about the vast variety of grapes grown at Blenheim, including some of our favorites like Cab Franc and Alberino. We left with a bottle of the Painted Red, which Dave himself creates the label for each year.
From there, we headed to Delfosse Vineyards. Set deep off the main road, Delfosse can be a little hard to get to. But trust us when we say that there's a light at the end of the dirt road. Or even better, good wine.
We tasted 10 wines at Delfosse, with some of our favorites inspired by the French and named after the Delfosse children. The Grand Cru Olivier, a Bordeaux-style blend was our absolute favorite. It paired perfectly with the pepper salami and cheese we noshed on.
After imbibing the afternoon away, our driver took us back to Charlottesville, where we checked into the Townsman Hotel. This hotel has a certain je ne sais quoi about it. It's not quite a hotel, but it's also not an AirBnb. You have a code to the main entrance and a code to your room. You come and go as you please, with no interaction with staff, since you're likely to never see one. It was a really unique concept and allowed us to stay directly on the main pedestrian mall.
Our dinner plans that night were a short walk away. Accurately called The Alley Light, this speakeasy can be found only by looking for the light at the end of the alley off 2nd Street. No signage, no fanfare. Just a light. Once inside, your reward for finding this gem includes unique cocktails and delicious French-inspired small plates. TIP: this place is extremely popular on the weekends. Be sure to make a reservation in advance.
We started with some cocktails, before enjoying the artichoke gratin, halibut steak and pork belly, to name a few.
Day 3 Charlottesville Area
After sleeping off the previous night's libations (and stuffing our faces with Bodo's Bagels), we decided to do something educational and headed to Monticello. Thomas Jefferson's private estate provided us with an interesting look back on his plantation days, long after his presidency. We even got to see his beer and wine cellars, including a wine trolley that sent wines from the cellar directly to the dining room. If you've never been to Monticello, we highly recommend a visit. This was definitely one of the highlights of our trip.
After getting our history fix, it was time for more wine! Just down the road from Monticello is Jefferson Vineyard. Trust us when we say this is the one vineyard you should not miss. It's tiny, but the wines were some of our favorite. The Cab Franc and Viognier were stellar and the perfect way to wrap up a wonderful weekend.
Overall, our Virginia wine getaway was so much fun. We were completely blown away by the hospitality, as well as the beautiful scenery and delicious wine. There's so much left to explore and we'll definitely be back to explore some more of VA's best vineyards. It also helps that there are so many direct flights from all over the east coast to both Richmond and Charlottesville.
One final tip if you're planning to travel to VA: be very mindful of the speed limit. Virginia has very strict laws for the lead footed out of towners. Don't say we didn't warn you!